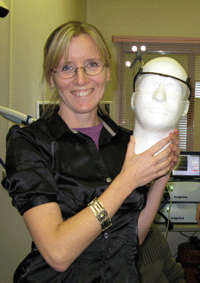 Lab Statement
Our overall research program focuses on predicting and enhancing motor and cognitive function in the context of neurological disorders, with a particular focus on geriatrics. Methods include transcranial magnetic stimulation (TMS), magnetic resonance imaging, neuropsychological testing, behavioural performance evaluation, and rehabilitative therapies.


Current News
December 2012 Jidan Zhong

joins the Koski Lab team as a Postdoctoral Fellow.

October 2012

The Koski Lab bids farewell to Afiqah Yusuf who has successfully completed her master's thesis.

September 2012 Scott Holmes

joins the Koski Lab as a PhD Student.

CIHR awards over $250,000 in operating funds for Koski lab's project "Neural excitability in Multiple Sclerosis: Building the case for functional compensation."
Contact Info
The Allan Memorial Institute, P2.142
McGill University Health Centre
1025 Pine Avenue West
Montreal, Quebec, H3A 1A1
Office Phone: (514) 934-1934, ext. 42612
Lab / Voicemail: (514) 934-1934, ext. 34439
Email: lisa.koski@mcgill.ca