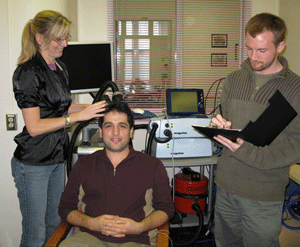 ---
Overview
---
Our research aims to enhance functional recovery in people with neurological and psychiatric disorders. This work spans the spectrum from studies in normal volunteers on the neural bases of human behaviour, to studies in clinical populations aimed at elucidating mechanisms of neuroplasticity, to clinical trials of promising therapeutic interventions. Current studies are conducted in the areas of Alzheimer's disease, multiple sclerosis, and HIV-associated neurocognitive disorder.
This work draws on a variety of investigative methods, including: transcranial magnetic stimulation (TMS), structural and functional neuroimaging (fMRI), neuropsychological assessment, questionnaire and performance-based measures of functional ability. Interventions include repetitive TMS (rTMS), physical rehabilitation, and cognitive rehabilitation. Our research represents a true multidisciplinary effort involving teams of scientists and clinicians from different backgrounds, including psychology, neurology, physical and occupational therapy, biostatistics, geriatric medicine, and anesthesiology.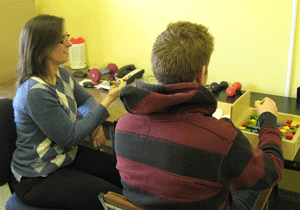 Studies using transcranial magnetic stimulation and cognitive assessments are carried out at Dr. Koski's TMS laboratory located at the Gatehouse of the Allan Memorial Institute at McGill University Health Centre.
Studies using MRI and EEG are carried out at the McConnell Brain Imaging Centre of the Montreal Neurological Institute.
---
Current Projects
---
Principal Investigator
Healthy Control Group for Comparison with Geriatric Cognitive Disorders Clinical Database

Co-Investigator
Investigating the Effect of Repetitive Transcranial Magnetic Stimulation (rTMS) as a Treatment for Alzheimer's Disease
website: Clinicaltrials.gov
Funded by the Weston Brain Institute



---
Past Projects
---
Principal Investigator
Neural excitability in multiple sclerosis: Building the base for functional compensation
Funded by the Canadian Institutes of Health Research
Measuring and predicting cognitive impairment in a geriatric clinic
Funded by the Canadian Institutes of Health Research
Honourable Hartland Molson Fellowship
Funded by the Montreal General Hospital Foundation.
Neurophysiological abnormalities in MS: Disease process or functional compensation?
Funded by the Canadian Institutes of Health Research.
Enhancing the response to rehabilitation after stroke using rTMS.
Funded by the Canadian Institutes of Health Research.
Cognitive rehabilitation of mild cognitive impairment.
Funded by Montreal General Hospital, Helen McCall Hutchison Research Award.
Duration of effects of rTMS for treatment of chronic neuropathic pain.
Non-invasive brain stimulation for treatment of upper extremity impairments after stroke: A preliminary test of effects on the motor system.
Funded by MUHC Research Institute.
Characterizing mild cognitive impairment in a geriatric outpatient population.
Funded by Helen McCall Hutchison Research Award.
Development of safe and effective protocols for rTMS of the brain in normal subjects.
Topography of cortical control of breathing.
Transcranial magnetic stimulation, cortical plasticity and rehabilitation.
Funded by RehabNet West, NIH.
Co-Investigator
Preliminary investigation of the effects of repetitive transcranial magnetic stimulation (rTMS) on the improvement of post concussive symptoms and patterns of abnormal functional brain activity after mild traumatic brain injury.
Funded by the Canadian Institutes of Health Research
Understanding and improving brain health in HIV now
Funded by the Canadian Institutes of Health Research.
Modelling and validating the effect of transcranial magnetic stimulation on cortical excitability: Implications for post-stroke recovery and depression.
P.I.: Amir Shmuel

SMARTease Trial - Turning SMART Goals into Smart Actions: Evaluating 'Stroke Help' Distance Interventions To Improve Cognitive Performance Post-Stroke.
P.I.: Gail Eskes & Nancy Mayo.
Funded by Canadian Stroke Network.
Maladie d'Alzheimer et troubles apparentés: Diagnostic, caractérisation et prise en charge.
P.I.: Sylvie Belleville & Francis Eustache.
Funded by Conseil Franco-Québécois de Coopération Universitaire.
Gender differences in the life impact of Multiple Sclerosis (pilot study).
P.I.: Nancy Mayo & Pierre Duquette.
Funded by CIHR.
Tracking the dynamics of depression in older persons with stroke.
P.I.: Sydney Miller.
Funded by CIHR and Heart & Stroke Foundation.
The role of human V5 in the perception of pattern motion: an rTMS study.
P.I.: Robert Hess.
Initial investigation into the therapeutic effects of rTMS on amblyopic vision
P.I.: Robert Hess.

Dr. Koski gratefully acknowledges the support of: